Lisbon Travel Guide & Itinerary 2023...
I've just got home from an incredible 3 night / 2 day trip to Lisbon in Portugal and I can't wait to share this no fuss Lisbon travel guide with you. This Lisbon travel guide provides everything you need to know to ensure your trip to Lisbon is fantástico! No matter how long you decide to go for, this Lisbon travel guide will give you a fantastic starting place to plan your own Lisbon itinerary. Before we get into the good stuff, why not subscribe to my YouTube channel or follow me on Instagram? Ok now you've done that, let's start planning your Lisbon trip!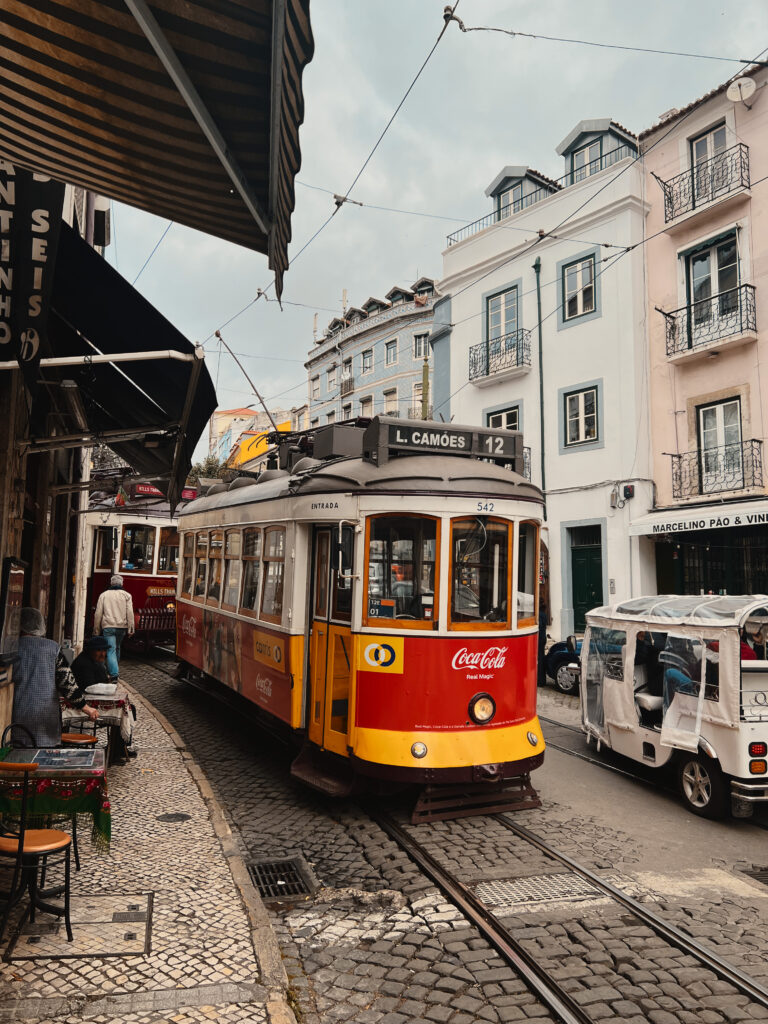 Flying to Lisbon Airport (Humberto Delgado Airport) is the most common way to reach Lisbon with flights from all over Europe, America, Canada, South America and Asia landing every hour. An alternative route is to consider is flying to either Porto (further North) or Faro (located in the Algarve). Lisbon can be reached by both of these cities with a relatively easy train ride and this would allow you to explore multiple cities on your Portugal trip. 
How to get from Lisbon Airport into the city?
There are multiple ways into the city centre depending on your budget and your urgency. You can easily grab a taxi from outside arrivals, expect to pay around 15-20 Euros and ensure the taxi meter is running. Some but not all taxis take credit/debit card so arrive with euros or use the ATM in the airport before jumping in the queue. The taxi queue can be longer in the busier summer months.
An Uber or Bolt may be cheaper than a taxi, however, you need to make your way up a level to departures to get picked up. You cannot get an Uber or Bolt from outside the arrivals area at Lisbon Airport. 
The Lisbon Airport has a Metro (subway) station with a direct line to the city centre. The 'Aeroporto – Saldanha' line takes you to downtown Lisbon in about 20 minutes. The Metro network will allow you to move around the city at ease.
There are also buses at a comparable price to the metro but it seems like the least convenient way to me so I didn't write about it. We took a taxi on our way into Lisbon and got an Uber on our way back to the airport, both were absolutely fine. 
Which area to stay in Lisbon?
In my opinion there are really only a few viable areas in Lisbon to consider when booking accommodation. With convenience and location in mind, these areas are Baixa, Alfama & Bairro Alto. If you stay within the area below you'll be in a great location and can walk to most of the nearby sites and attractions no problem.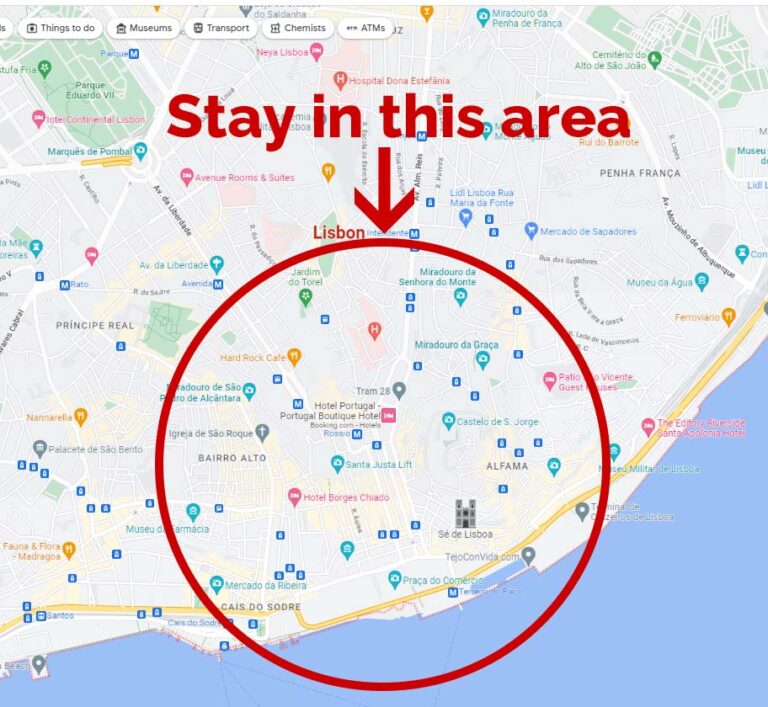 Centrally located at the heart of the main Lisbon attractions and sites, Baixa is arguably the better location if you want to be close to great restaurants, good nightlife and the main sites. It's also the flattest part of the city so if you struggle walking up and down hills, Baixa is probably the way to go. We stayed in Baixa at a hotel which I can highly recommend called Vincci Baixa.
The Alfama district is home to famous sights such as Castelo De S Jorge, Se Cathedral and many more places. Located in a hilly area, there are fantastic viewpoints throughout Alfama and you'll see the famous number 28 tram pass through here every 10 minutes. It's a great location to stay in and you won't be far from an instagrammable building or monument!  There will be a fair amount of walking up and down hills if you stay here, although that's a given when you visit Lisbon unless you take a tuk-tuk or tram.
Wander the cobbled streets of the bohemian and picturesque quarter of Lisbon. Staying here will involve a few hills but you'll be located near the best nightlife and cafes.
Lisbon must see locations...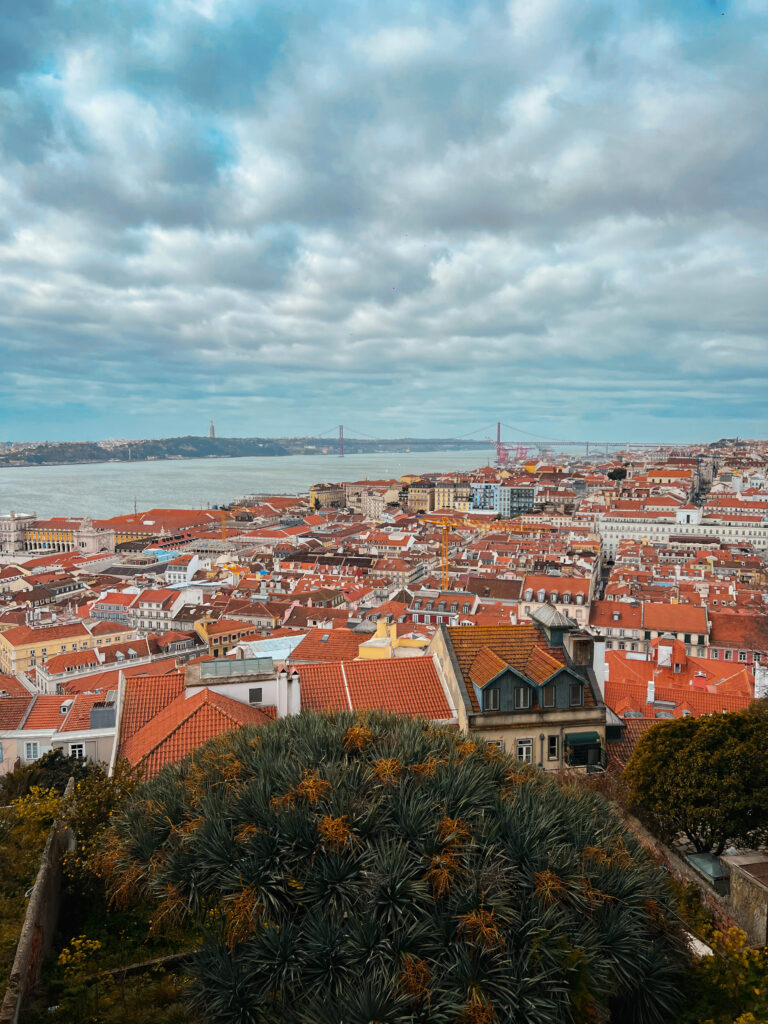 Miradouro da Senhora do Monte
An incredible viewpoint giving sweeping views over the whole of Lisbon. Located in the northern part of Alfama, this is a must see location which you can pair with the other nearby attraction in Alfama to make a mini walking tour. Walking here does require some uphill roads and paths. A tuk-tuk or taxi to there may be worthwhile.
Miradouro da Graça & Igreja Paroquial da Graça
Just a 10 minute walk from the last viewpoint which offers an ideal cafe stop next to the beautiful 'Igreja Paroquial da Graça' which translates to 'Church of Our Lady of Grace' which is also worth popping in to check out (free entry). 
Castelo de São Jorge
This famous castle sites overlooking Lisbon and provides even more stunning views across the bay and city. To explore the grounds and castle itself requires an entry ticket which was around 15 euros if purchased on the day. I would definitely book online to avoid the queues before you arrive. The grounds are really quaint with peacocks roaming around (one was quite aggressive so beware LOL). You can build all of these Alfama must sees into a mini walking tour, I will add a Google Map route further down if you can't be bothered to do it yourself 😀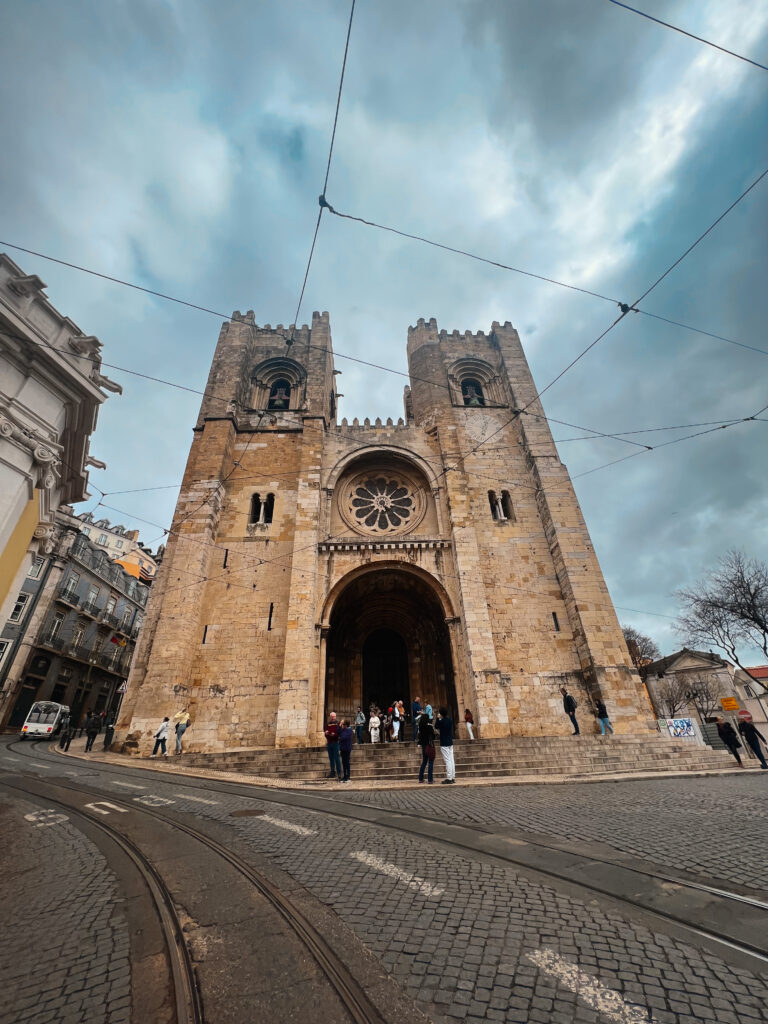 Lisbon Cathedral (Sé de Lisboa)
Entry costs 5 euros and will allow you to explore this historic church which happens to be the oldest in Lisbon. You can get an incredible photo from the road outside as the number 28 tram passes by, unfortunately I couldn't be arsed to wait (totally forgot the trams run every 10 minutes). This is one of the last must see stops before you descend back towards Baixa. 
Walk the Tram 28 route around Alfama…
It passes by most of the must see locations in Alfama and will allow you to see them at your own pace rather than having to queue on a cramped up tram. I've made a google map with some of the must see locations with a route (similar to the route I walked with my Dad on my recent Lisbon trip).
Terreiro do Paço (The Huge Square in Baixa)
This iconic Lisbon sqaure sits at the centre bottom of the Baixa district opposite the River Tagus and is home to the impressive Arco Da Rua Augusta and Estátua de D. José I. The Arco da Rua actually has a viewing platform is that's something you're intrested in. Either way, this must see square is essential as part of your Lisbon trip!
Elevador de Santa Justa / Santa Justa Lift
The giant Elevador de Santa Justa is Lisbon's only public vertical lift. With an observation deck at the top, it gives a different view from Baixa looking up and around at the elevated parts of the city. The queue can be quite large in the summer months. It's located just a 5-10 minute walk from Terreiro do Paco. 
Rossio Square
Located in the heart of Lisbon, this vibrant and colorful city square is the liveliest in Lisbon where people stop to sit and relax or drop in for a drink or food at many of the busy cafes. The square features two waterfalls and central monument.
Praça da Figueira
Located one block away from Rossio Square, Praça da Figueira features a statue of King John I made from bronze. While you in Baixa it totally makes sense to stop by here and the nearby Rossio.
Carmo Convent
The ruined Carmo Convent is one of Lisbon's most hauntingly beautiful sights. It was its greatest medieval building, but stands as a reminder of the devastating earthquake of 1755 that destroyed most of the city. Its roof collapsed on the congregation as it was attending Mass on that All saints' Day, and was never rebuilt, but the Gothic arches still stand.
Bairro Alto
Yes this is a whole district but it's hoem to art galleries, historic buildings and one of Lisbon's busiest areas for nightlife.  During the day this quaint part of town is worth a stroll to explore its narrow streets and boutique cafes, by night this place is packed with locals and travellers enjoying the countless bars.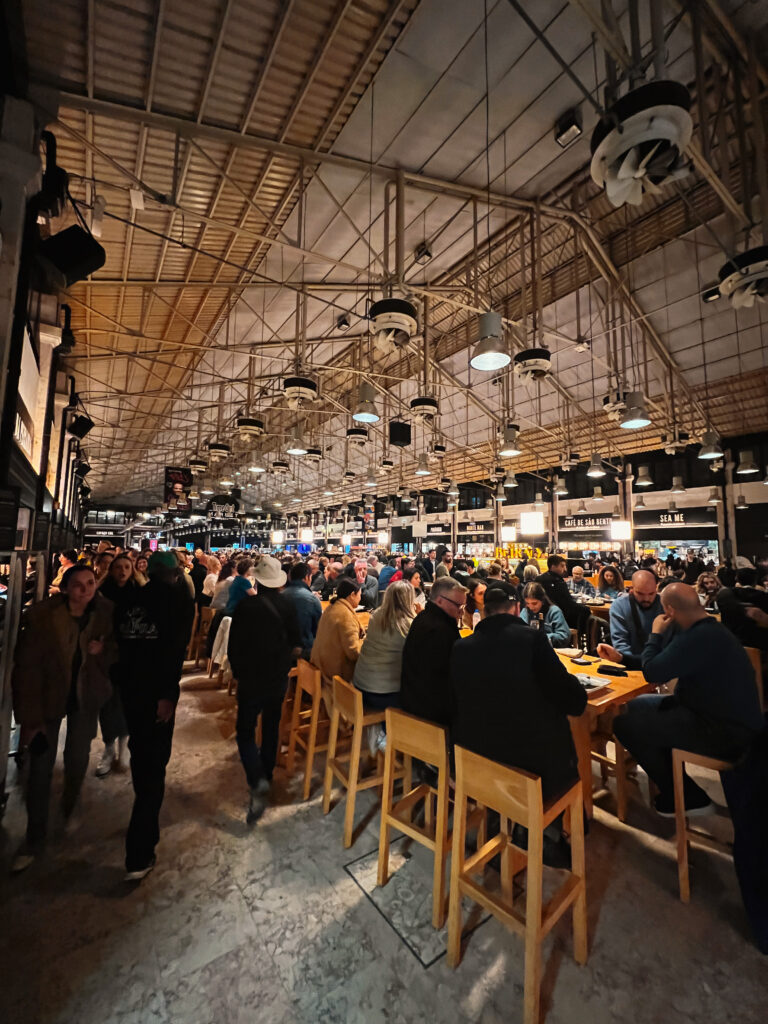 Time Out Market
Did you go to Lisbon without stopping at the time out market? Me thinks not! Also known as Mercado da Ribeira, the Time Out Market has the city's best food & drink all under one roof. Choose from a number of incredibly tasty food stalls and enjoy on one of the many tables. This place is open from midday to midnight and is ideal to pass a couple of hours if it happens to rain. It's located just around the corner from the famous 'Pink Street'.
Pink Street
Rua Nova do Carvalho is the official name of Lisbon's Pink Street and was once part of the red light district were sailors would come into the city to gamble, drink and get up to god knows what with a lady of the night. These days, the street is hip and has a load of awesome pubs and cocktail bars. The atmosphere at night is buzzing!
Elevador da Bica
The most photographed funicular in Lisbon, due to the dramatic contrast between the steep route and the river in the background, this is one of the city's greatest attractions. It connects Largo do Calhariz to Rua de São Paulo in a heady descent possible on foot but an ascent only suitable for the hardy.
Other notable things to see in Lisbon...
Oceanário de Lisboa (Lisbon Oceanarium) 
One of the largest indoor aquariums in Europe, another rainy day idea and highly rated. I didn't visit here but I've heard some very good things. If you're visiting Lisbon for a slightly longer time then this is a must do!  While you're down this part of Lisbon, you can jump on the 'Telecabine De Lisboa' the seafront cable car!
Ponte 25 de Abril / Lisbon Suspension Bridge
Often compared to the Golden Gate Bridge in San Francisco, this impressive suspension bridge was opened in 1966 and has become a landmark of the Portuguese capital city! You can get some great views of the bridge by walking or getting a bus along the seafront from Baixa or Cais Do Sodre. 
Belém Tower
A landamrk medieval fortified tower on tiny river island with rooftop terrace offering estuary views.
Sintra / Cascais
These two towns are often visited as part of a day tip from Lisbon, a friend highly recommended hiring a scooter and driving to them (we didn't get time) but I would have loved to! 'With its rippling mountains, dewy forests thick with ferns and lichen, exotic gardens and glittering palaces, Sintra is like a page torn from a fairy tale. Its Unesco World Heritage–listed centre, Sintra-Vila, is dotted with pastel-hued manors folded into luxuriant hills that roll down to the blue Atlantic' – Lonely Planet. Cascais is a traditional Portuguese fishing town which has fastly become a must see destination with its cobbled historic streets, imposing fort and lively bars and restaurants. The beaches in and around Cascais are simply stunning, if you're looking for a beach day, look no further!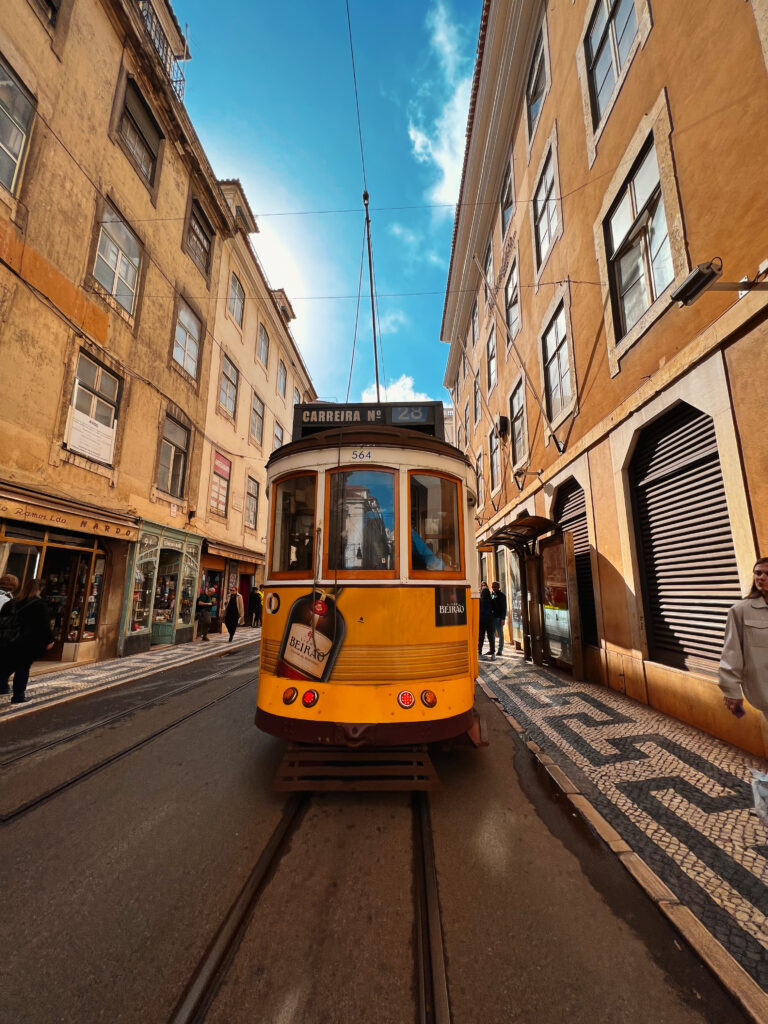 Lisbon is packed with cafes, restaurants and bakeries. Try and avoid the tourist trap restaurants located in Baixa that have the typical 'photo menus' and overcharge just because of their location. Time Out Market is a great place to start with many delicious food options. A must try in Lisbon is the famous 'pastel de nata' which is basically a Portuguese Custard Tart – they are delicious and will last for a few days if you want to bring a box of 6 home for friends and family. Here are some of TripAdvisors highest rated places to eat in Lisbon…
Breakfast & Brunch
Lunch
Dinner
Breakfast & Brunch
Seventh Brunch Chiado, Augusto Lisboa & Brunch Cafe (we ate here 3 times so my Dad could get his fix of 'English Breakfast' – very cultured I know). 
Lunch
Dinner
If you're looking for a night out in any shape or form, head to Pink Street located a block in from the river or Bairro Alto which is packed full of bars, restaurants and clubs. You can see live bands, local jazz music, DJ's and all pretty much anything that suits your taste. 
5 Portuguese phrases to help you out...
Hello – Olá
How are you? – Como está?
Thank you – Obrigad(a/o)
Please – Por favor
Do you speak English? – Fala inlgês?
General Lisbon travel tips...
Avoid summer?!
From what I have been told by hotel staff, cafe staff and taxi drivers, Lisbon gets VERY VERY BUSY during the summer months. Therefore, it may be an idea to avoid the summer months where hotels will be cheaper, queues for attractions will be smaller and you may be able to enjoy yourself just that little bit more. On the other hand, the weather might not be so great! 
Tram 28 – GO EARLY OR LATE! 
If you want to do the famous Tram 28 (which costs 3 euros unless you have an unlimited metro card) then I would get there very very early or go late at night. This has to be one of the most popular things to do and queues can actually take hours. Trams come every 10 minutes but they are small so the queue will take quite a while (it took us about 1 hour during a Friday in March and we arrived to queue at 9am). The tram runs from 6am until about 10.30pm. Another option is to get a taxi or tuktuk to the last stop of tram 28 (Prazeres) and then catch the tram in the opposite direction. 
Walk the Tram 28 route around Alfama…
It passes by most of the must see locations in Alfama and will allow you to see them at your own pace rather than having to queue on a cramped up tram. I've made a google map with some of the must see locations with a route (similar to the route I walked with my Dad on my recent Lisbon trip).
You'll be asked if you want to buy drugs
There are many dodgey looking guys especially around Baixa and the main squares who are selling cocaine and weed so don't be alarmed when you are approached. A friendly no thanks will do the trick unless of course you're into that stuff. Be warned though, many of these sellers are reported to sell flour or bay leaves instead of the real thing. 
Book tickets in advance!
To avoid / reduce queues, book tickets to attractions in advance especially during the summer months. It may be worth looking at purchasing a Lisboa Card which gives you free transport on the metros, trams & lifts plus free entrance into some of the cities attractions.
Bring comfy shoes and be prepared for a few uphill walks
There is inevitably some walking involved in any city break, Lisbon is no different, however, if you book a hotel in Baixa or Alfama you can reduce your walking. You'll still have to tackle a few hills in Alfama none the less so bring some trainers or comfy shoes.
Bring some cash in Euros, but not too much! 
Having some cash in Euros is handy for tipping and small stuff, everywhere generally takes credit / debit cards. If you bring a lot you might lose it or have it stolen. Some taxis take cash only. 
Keep an eye on your phone, cameras and stuff…
Like all big cities, beware of pick pockets. I didn't see or experience anything but I do keep my eyes peeled. Just don't give them an opportunity, don't leave your phone on the corner of a table when eating etc.
Have an epic time in Lisbon!
Thanks for reading…
I hope this Lisbon Travel Guide will provide a great starting point for your 2023 Lisbon Trip! If you've enjoyed reading or get any value from it, please let me know via my YouTube channel or follow me on Instagram and let me know.